Meet the Team
Tim moved to Hervey Bay after completing most of his primary and high schooling on the Gold Coast. Starting a bachelor's degree in Information Technology, he began attending Fraser Coast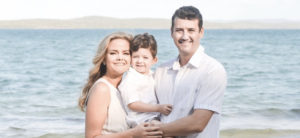 Baptist Church after being invited by a member whom Tim was boarding with at the time.
On the eve of his 21st birthday, Tim recalls dropping to his knees beside his bed that night after months and months of conviction as he responded to God's call on his life. From that moment on, Tim has been convinced that the Lord wants him in full-time ministry. Little did Tim know that that calling was going to take some time to fulfill.
After completing a bachelor's degree in Education as well, Tim went on to become a teacher as he knew IT was not his passion. He later became youth pastor at Fraser Coast Baptist Church
and then went on to attain his theology degree at Malyon Theological College. In the winter of 2018, Tim took on a role of being a weekly preacher at the same time of fulfilling a full-time job as a teacher at Riverside Christian College. January of 2020 saw an answer to our prayers when we were in a position to call Tim Eyschen as our pastor.
Tim has a passion to help people (from all backgrounds and at all stages of life) grow in their faith in Christ Jesus and to see God transform hearts. He loves to teach deep theological truths in a way that is easy to understand and apply in one's life. Married to Cari for 8 years now, they have a beautiful boy named Griffith (Griff) who always keeps them on their toes.
Pastor Tim looks forward to see what God has in store at Fraser Coast Baptist Church as they navigate through this season of church revitalisation.
Andy Cockram found his Salvation at Murwillumbah Baptist Church in 1966. He started his Banking Career with the ES&A bank in Wynnum (Brisbane) before moving to various positions around the State of Queensland. He and Faith were Married in The Baptist church at Manly / Lota in 1971 and they have 3 grown up children and 5 Grandchildren. Andy and Faith have been attending Fraser Coast Baptist Church for over ten years and he is currently fulfilling roles of Treasurer and Secretary. Faith, who serves alongside him, uses her musical talents to play the church Piano, keeps the church Directory up to date and helps out wherever she is needed. They both enjoy time away in their Caravan, table tennis and gardening.
Merv Padgett has been attending Fraser Coast Baptist Church for over ten years now. He is married to Ellen and they love spending time with their kids and grandkids when they get the chance. They celebrated 60 years of marriage in 2019, and are a testimony to God's faithfulness. The commitment they have for each other is an encouragement for anyone who knows them. Merv has been on a roller coaster in recent years with ill-health and near-death experiences. He is constantly in our prayers as he fulfils his vital role in the revitalisation of Fraser Coast Baptist Church
Deacon Emeritus: Col Carmichael
Col Carmichael is the only founding member of Fraser Coast Baptist Church to be still attending. Unfortunately, those Sunday visits are getting fewer and fewer as Col battles with health problems that come along with ageing. Col has just reached a milestone of turning 95 years of age and is currently residing in one of the local nursing homes. We call him a Deacon Emeritus in honour of the labour he has poured into the church and the fact that he is the only founding member left, who is still associated with Fraser Coast Baptist Church.