Meet the Leadership Team
Tim moved to Hervey Bay after completing most of his primary and high schooling on the Gold Coast. Starting a bachelor's degree in Information Technology, he began attending Fraser Coast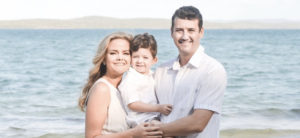 Baptist Church after being invited by a member whom Tim was boarding with at the time.
On the eve of his 21st birthday, Tim recalls dropping to his knees beside his bed that night after months and months of conviction as he recommitted himself to the Lord and responded to God's call on his life. From that moment on, Tim has been convinced that the Lord wants him in full-time ministry. Little did Tim know that that calling was going to take some time to fulfill.
After completing a bachelor's degree in Education as well, Tim went on to become a teacher as he knew IT was not his passion. He later became youth pastor at Fraser Coast Baptist Church
and then went on to attain his theology degree at Malyon Theological College. In the winter of 2018, Tim took on a role of being a weekly preacher at the same time of fulfilling a full-time job as a teacher at Riverside Christian College. January of 2020 saw an answer to our prayers when we were in a position to call Tim Eyschen as our pastor.
Tim has a passion to help people (from all backgrounds and at all stages of life) understand their identity in Christ, grow in their faith in Jesus and to see God transform hearts. He loves to teach deep theological truths in a way that is easy to understand and apply in one's life. Married to Cari since 2011, they have two beautiful young boys.
Pastor Tim looks forward to see what God has in store at Fraser Coast Baptist Church as they navigate through this season of church revitalisation.
Deacon: Michael Ainsworth
Michael moved to Hervey Bay from Adelaide 4 years ago with his wife and daughter. He was brought up as a Catholic, was an altar boy and attended a grammar school run by Marist priests. In 1984 Michael immigrated to Adelaide, finding work at a large organization, which supports people with an Intellectual disability. He worked as a community manager for 32 years before moving to Hervey Bay. Michael now works as a Training Coordinator in aged care.
In 2003 after many years of struggling in his Catholic faith Michael put his trust in the Lord Jesus Christ as the Author and Finisher of his faith, and has been a committed Christian since. He clearly remembers saying, "The Truth has indeed set me free."
Later that year Michael went to the Philippines and married Tresita, a committed Christian who was working as a teacher in the Baptist school. Whilst he was there he was baptized and has since visited six times, each time visiting the schools and prisons, sharing the salvation message with the Baptist Pastors there.
Michael and Tresita are committed to sharing the gospel truth with family, friends and community both here in Hervey Bay and in the Philippines. They have already been blessed with several family members committing themselves to the Lord.